Verdina Shlonsky 1905-1990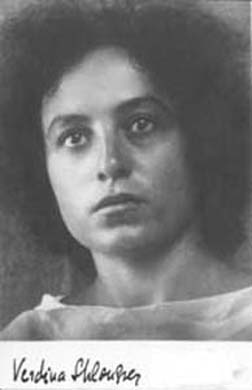 Shlonsky, Verdina. First female Israeli Composer. Born in Kremenchug, Ukraine 1905. Died Tel Aviv, Israel 1990. Younger sister of Avraham Shlonsky, Yishuv and Israeli poet and critic. Verdina Shlonsky was a unique figure in Israeli cultural and musical history. Her works and writings combined the highest traditions of the European conservatory and the new, emergent sound of Israeli folk and popular music. She was best known as a piano pedagogue, and she influenced an entire generation of Israeli pianist, including her nephew, Yahli Wagman.
This website is under construction, but will feature:
"The Tango and The Hora: The Life and Music of Verdina Shlonsky." Master of Music Thesis, Hebrew Union College-Jewish Institute of Religion, New York, 1998.
Photos of Shlonsky from her archive in the Music Archives of the National Library, Hebrew University, Givat Ram, Jerusalem.
Samples of her compositions.
Full listing of all published works, with links to the IMP (Israeli Music Press) for purchasing.
I am a Reform cantor with a Masters of Sacred Music degree. I am a 1998 graduate of the School of Sacred Music, Hebrew Union College-Jewish Institute of Religion, New York. I am beginning to build a website devoted to the life and music of Verdina Shlonsky.
Please contact me at jess.epstein@verizon.net for more information on Shlonsky or this site.
Link to excellent article on Schlonsky by Ronit Seter
Verdina Shlonsky, "The First Lady of Israeli Music"
http://www.biu.ac.il/hu/mu/min-ad/07-08/Seter-SHLONSKY.pdf
Information on Cantor Jessica (Fox) Epstein